Fungaea Oyster Mushroom "Shroom Box"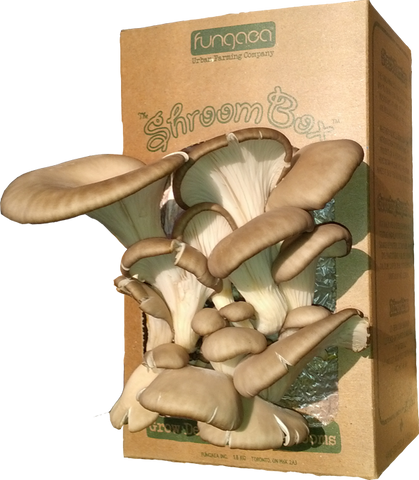 This indoor oyster mushroom "ShroomBox" is a sustainable way to grow your own gourmet oyster mushrooms at home. It's ready to go and requires no green thumb at all. Whether you're looking for a simple introduction to urban farming, a fun project, or a year-round supply of homegrown mushrooms, the shroombox makes it easy for anyone to get growing!

Keep this indoor kit in a cool room, out of direct sunlight. Harvest up to 2lbs of mushrooms over 2-3 fruiting periods. Each kit is easy to use, easy to setup, and makes for a great gift for all the mushroom and urban farming lovers if your life.
Each kit comes ready to fruit as a live colony in a compostable bag. A glass misting bottle and complete growing instructions are also included.