Worm Factory 360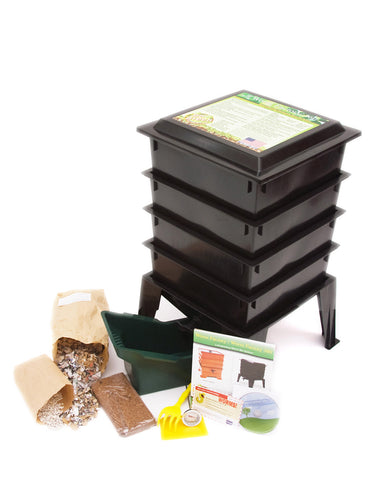 The Worm Factory 360® is uniquely designed to efficiently and effectively turn kitchen scraps (no meats, fats or bones though), junk mail, and more into nutrient-rich compost, without causing a stink.

The Worm Factory 360 features a stackable, multi-tray system to allow your worms to begin eating waste in the lowest tray and then migrate upward as food sources in that tray are exhausted. Here are just a few of the benefits of composting:
Reduce the waste you send to the landfill
Usable year-round both indoors or outdoors
Easy, low-maintenance operation
Odourless operation
Produce rich, high-quality compost
About Vermicomposting
Vermicomposting is an excellent and easy way to create nutrient-rich compost for your vegetable garden. Turn leftover kitchen scraps (no meats, fats or bones), recycled paper, coffee grounds, eggshells, and more into finished compost through the simple and easy process of worm composting. If you want a simple way to create rich compost, provide your children with an educational experience, reduce the waste you send to the landfill, and live a more sustainable lifestyle, consider setting up your own composting system.
What's Included
Worm Factory 360 unit with 4 trays (expandable up to a maximum of 8 trays)
Accessory kit (scraper, rake, and thermometer)
One 250g brick of coconut coir, one small bag of shredded newspaper to get your bedding started, one small bag of trace minerals, one small bag of pumice
Bonus sprinkler tray to catch lechate/worm tea (previously discontinued by the manufacturer)
Moisture meter
16-page instruction manual
10-year manufacturer's warranty
Technical Details
Unique thermo-siphon design to increase the airflow within the trays
Built in "worm tea" collector tray and spigot for easy draining
Dimension: 18" (w) x 18" (l) x 28" (h)
Not suitable for meats, fats or bones
To order additional trays, additional coconut coir, please contact us info@youngurbanfarmers.com
Free shipping available across Canada. Please check with us first if you are placing an order with worms as we can only ship worms a limited distance and not during the winter months. Read our Frequently Asked Questions on the WF360.
All customers will also receive a free pdf copy of our e-book Worm Composting - A Practical Guide at no extra cost. 
2021 Update: The green and terracotta colours are out of stock and there is no set restock date from the manufacturer.