Seed Starting Soil Mix 8L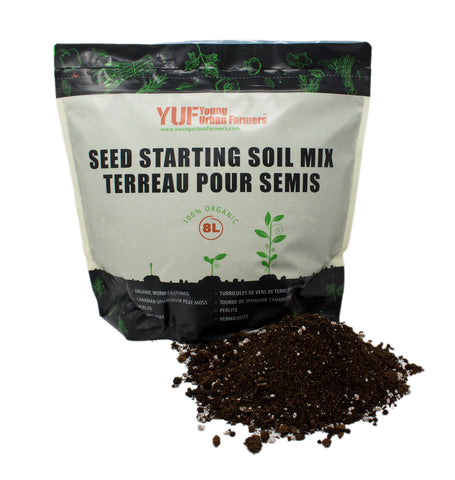 Grow healthy, vibrant, seedlings for your garden with our custom Seed Starting Mix. Specially formulated for all your vegetables, flowers, and herb seeds, you can ensure you seedlings grow healthy and strong with the perfect balance of nutrition.
Ready-to-use, simply open the bag, fill your seed starting trays, and you're ready to go. It is made with premium organic worm castings, Canadian sphagnum peat moss, perlite, and vermiculite without any chemicals such as wetting agents.
Provides great moisture retention as peat, perlite, and vermiculite are great at absorbing and holding moisture right at the root level. This means healthy seedlings that are less prone to water stress, or if you miss a watering. Perlite and vermiculite also aid in soil structure providing porosity and air flow within the mix.
Comes with a recloseable zipper, allowing you to store extra soil for later. The packaging can also be reused (we use it to portion out smaller amounts of bulk fertilizer and soil amendments). The packaging is also fully recyclable (code 2), meaning almost all municipalities, including Toronto, will accept this into their recycling program.
You can use this for more than just your seed starting needs. It is great for indoor potted plants, hanging baskets, raised bed and planter amendments, and even for lawns, flower beds, trees, and shrubs.
Ingredients: Worm castings, peat, perlite, vermiculite
Proudly made in Toronto, Canada