Zinc Garden Tags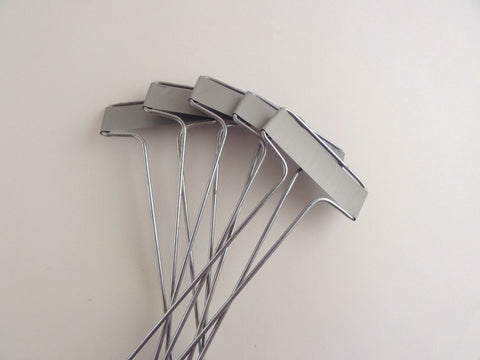 What Is It?
Remember exactly what you've planted in your garden with these stylish and durable zinc garden labels. They are designed to last for many years and stand up to the harsh garden environment of sun, water, and wind exposure. Say goodbye to plastic tags that may break or get blown away. Garden tags measure 26cm in length with have a writable area of 2cm x 6.5cm and come in a 10 or 25-pack.
The Best Part?
Simply use any carbon pencil to label to customize and personalize your garden. We like using a 2B or 3B art pencil, though any pencil will do. The markings will last for many years even through rain, sleet, snow, and ice. You can leave them outdoors throughout the winter to remember exactly what is planted and where when the snow melts in the spring.
Why We Carry It?
When we were looking for a long term solution to labelling and identifying our plants, we wanted to avoid plastic and go with something durable and long-lasting. Our zinc garden labels are made in the USA. For bulk purchases of 500 or more, please contact us for a custom quote.