Insecticidal Soap Concentrate 500ml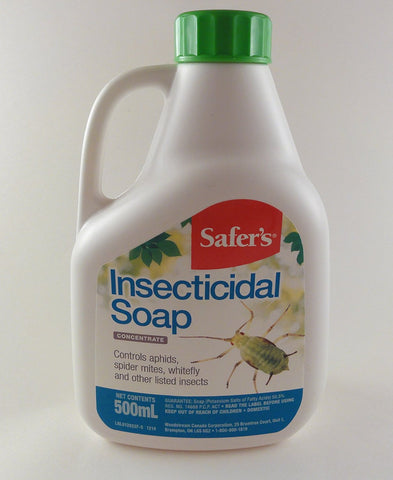 Insecticidal soap is a great general purpose spray to reduce and minimize insect damage. Use it to control aphids, spider mites, powdery mildew, Japanese beetles, whitefly, mealybugs, soft brown scale, psyllids, rose slugs, pear slugs, and earwigs.
Insecticidal soap utilizes the power of potassium salts of fatty acids (insecticidal soap). The potassium salts weaken the insect's waxy protective outer shell.  Apply every 7-10 days when insects are present or as needed to prevent further damage.
Safer's Insecticidal Soap Concentrate is OMRI certified, which makes it an approved product for certified organic growing.
Dilute at 1 part concentrate to 50 parts parter, or 10ml soap, per 500ml water. Makes up to 25L of finished product.
Each bottle containers 500ml of concentrate.