Worm Composting - A Practical Guide (e-book)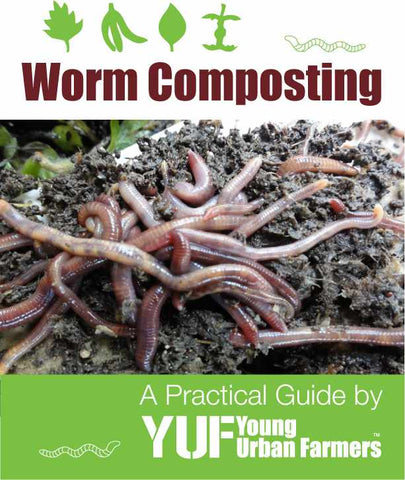 Learn how to successfully compost with red wiggler worms with this practical, hands-on guide by Young Urban Farmers. Full of field-tested advice and techniques, this book will give you the confidence to create rich, high-quality, organic compost for your garden and potted plants. 

Part 1 covers vermicomposting basics such as choosing the right composter for your needs, where to set it up, where to get worms, and how to set up your new composter. 

Part 2 provides an in depth look at what to feed your worms, creating the right balance of food and bedding materials, feeding tips, and ongoing maintenance of your composter. This section concludes with advice on harvesting the castings and using lechate and compost tea.

Part 3 concludes with an advanced section on managing your bin. Topics include how to prepare you composter before you go on vacation, fattening the worms for fishing, maximizing compost creation, minimizing maintenance time, dealing with unwanted insects, and troubleshooting a smelly bin. This section concludes with a list of frequently asked questions.

An appendix outlining different types of worm composters as well as instructions on how to build one yourself are included at the end.

Whether you are new to vermicomposting or a seasoned pro, you'll be sure to find some practical, hands-on advice on how to best manage your worm composter.
This e-book is currently only available for digital download from Amazon.com. Please complete your purchase for instant delivery using Amazon.